Graduate School of Education
The Graduate School of Education (GSE) admitted its first students in September 2013. The main objective of the Graduate School of Education is to promote the further development of the education sector of the Republic of Kazakhstan by training future generations of educational managers and researchers. The School offers Master's and Ph.D. degree programs and professional development programs.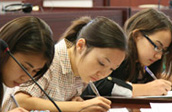 Programs in the Graduate School of Education (GSE) at Nazarbayev University are highly selective, and there is a competitive application process. In order to be considered for admission to Master's programs, an individual must have completed an undergraduate university degree, demonstrate strong motivation and academic performance, be able to demonstrate a level of English proficiency sufficient to allow her or him to work in an English-medium academic environment.